Biography

Thomas Ermak

Tom received his Ph.D. in Marine Biology from the Scripps Institution of Oceanography at UC San Diego in 1975 working in Nicholas Holland's Histology and EM Labs.  He continued his Ultrastructural training as a Postdoctoral Fellow in Dick Eakin's EM Lab at the Department of Zoology, UC Berkeley.  Tom continued his training in Cell Biology as a Postdoctoral Fellow and Research Cell Biologist at the UCSF School of Medicine where he performed NIH sponsored research projects in Cell Structure, GI Cell Biology, and Mucosal Immunology. 

In 1992, Tom joined OraVax in Cambridge MA to develop oral vaccines and directed projects against GI infections, in particular Helicobacter pylori which was associated with gastric ulcers and stomach cancer. In subsequent work at the company, reorganized as Acambis, Inc, he directed vaccine efficacy and mechanism of protection studies for submission to the FDA.  His studies contributed to the development of Acambis' vaccines against Smallpox, West Nile, Japanese Encephalitis, and Dengue Fever.  The company is now part of Sanofi Pasteur vaccines.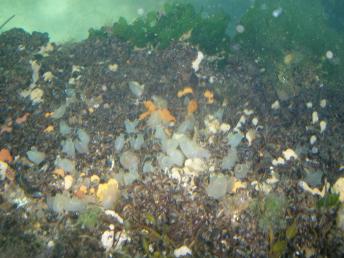 Settlement by young Ciona intestinalis in late Spring 2010 on the side of a stationary floating dock in Cape Cod Bay at MacMillan Wharf, Provincetown, MA.  Most of the surface was covered with uniformly 1 cm long blue mussels Mytilus edulis.  A few colonies of orange Botrylloides violaceus were also seen.